Type of management
Complex Water-Based Production, Protocol Management
Execution delivery
Managed & coordinated a cast of 400, including creative concepts & ceremonial arrangements
DEFINED IMPACT
A spectacular celebration of Emirati values & traditions against a dramatic Dubai skyline
Audience profile
National and international attendees, dignitaries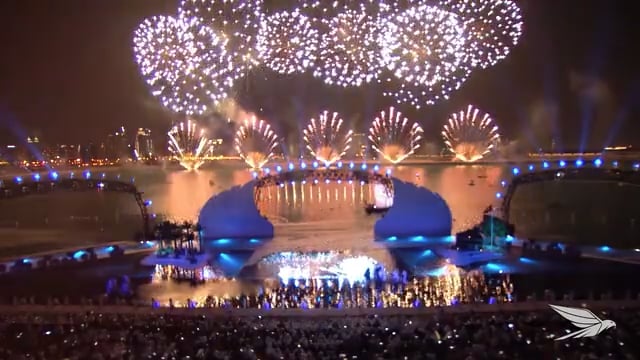 Insights
Embracing Emirati Traditions
The National Day celebration was a truly remarkable experience, crafted from the view point of the poets. How they brought the UAE and its culture to life with their words, creating an awe-inspiring tribute that was as beautiful as it was heartfelt. It was amazing to see how the poet's view could be brought to life for the celebration, giving a great appreciation to the country and its citizens that was truly unforgettable!
What did we do?
HQWS designed and executed a magnificent open-air show integrating light, music, movement, and theatrics, all set upon the water. Over 400 artists, including local students and police cadets, dazzled the audience with support from state-of-the-art water screens, dancing fountains, and pyrotechnics.
What were the challenges?
What were the challenges?
The water-based venue required intricate planning, involving structural engineers, marine experts, and divers to construct stages submerged just below the waterline.
The Outcome
Innovating Tradition
HQWS brought traditional Emirati celebrations to life with modern techniques, such as LED fly-boarders and aerial displays, while also paying homage to the culture with elements like riderless horses galloping across submerged stages and performances by renowned Bedouin horseman, Ali Al Ameri.