Type of management
Production Management and Project Lead Consultant
Execution delivery
Design & Build, Show Production, Creative Concept, Guest Journey, Operational Master-planner
Audience profile
Business Leaders and Ambassadors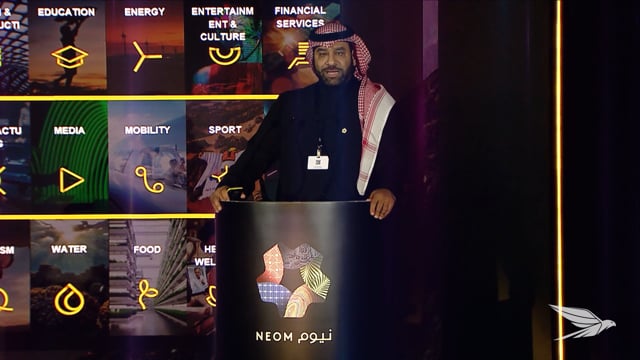 Insights
A Roadmap to Progress
A series of events in Jeddah, Al Khobar and Riyadh to update regional business leaders and ambassadors on the progress of NEOM and upcoming plans. HQWS aimed to showcase NEOM's commitment in driving connections for a transformative future, recognizing industry partnerships and organic growth as vital, and collectively contribute to the Kingdom's prosperity.
What did we do?
Merging modernity and nature in its design, each curated occasion provided a refined guest experience, offering a seamless journey. A fusion of innovation and elegance created opportunities for attendees to engage with NEOM's leaders, fostering connections. State-of-the-art technology played a pivotal role, with cutting-edge audio-visual systems and interactive displays conveying dynamic updates and information.
What were the main objectives?
What were the main objectives?
The events aimed to update on NEOM projects and provide a platform to engage with their leaderships. The level of interest was remarkable, therefore carefully curated guest lists: by promoting a deep understanding of NEOM's diverse landscape, these gatherings nurtured an intimate engagement, and also the opportunity for business leaders to extend collaborations across sectors.
What was the experience?
Sustainable Synergy
Sleek white finishes and lush greenery harmoniously balanced futurism and nature, reflecting NEOM's innovation and sustainability commitment. Interactive digital totems conveyed dynamic messages updated as per event agendas. A modular stage design, repurposed for all events, alongside furniture and décor - scaled to suit each venue - minimized waste and epitomized NEOM's forward-thinking dedication.