Type of management
Production Management and Project Lead Consultant
Execution delivery
Design & Build, Show Production, Creative Concept, Guest Journey, Artist managment, Operational Master-planner
Audience profile
VIPS, Industry Executives, Media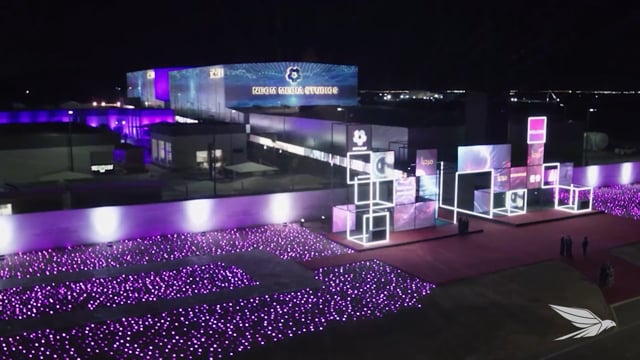 Insights
NEOM's Sonic Boom
The launch of NEOM's latest soundstage, showcasing its cutting-edge facilities and support for industry professionals, spanned two days. Full hospitality, operations, and logistics were in place, complemented by highly recognized international acts. This effort sought to establish the region as a new powerhouse in the global arena. The meticulous attention paid to both technical and creative aspects underscored NEOM's position as a hub for innovative ideas and visionary projects.
What did we do?
The two-night shows artfully blended art and entertainment. By integrating the orchestra with showcased film content and leveraging the power of music as a storytelling medium, they amplified the emotional resonance of every moment. The opening night featured a 90-element orchestra crafting bespoke musical scores to accompany films. The closing show, highlighting Nile Rodgers and his greatest hits, served as a perfect celebration of past achievements and a nod to future partnerships.
What were the main objectives?
What were the main objectives?
HQWS's goal was to introduce NEOM as the premier regional partner for the global entertainment industry and to pave the way for future productions within its facilities. In the face of numerous challenges, including a sandstorm striking the site 48 hours before the inaugural evening, HQWS delivered a flawlessly organized event, encoppasing technical solutions, transportation, logistics planning and execution, operations, construction, client management, and much more.
What was the experience?
Audiovisual Odyssey
As guests arrived, a striking screen installation spanning 300 sq mt of LED screens illuminated the entrance against the night sky. This installation was beautifully crafted with digital content, where rich and vibrant colors danced in perfect harmony. Guests were then greeted by an impressive red carpet flanked by 250 sq mt screen walls on either side. Walking through this corridor of innovation, they became immersed in an unfolding narrative. Each step they took resonated with the dynamism of the media, enveloping them in an aura of beauty and creativity.