Type of management
Production Management and Project Lead Consultant
Execution delivery
Design & Build, Show Production, Creative Concept, Guest Journey, Operational Master-planner
Audience profile
VVIP, Media, Invited guests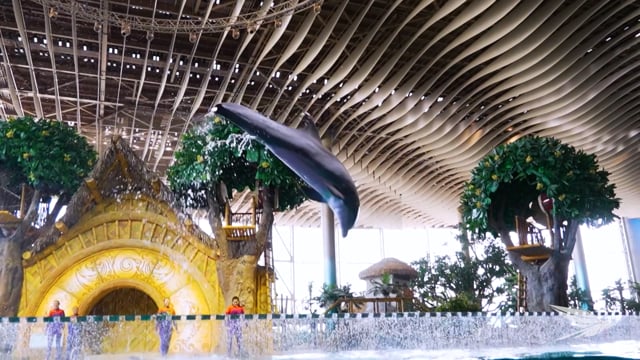 Insights
Next-Generation Marine Life Theme Park
Yet another grand opening at Yas Island, Miral has appointed HQWS to deliver The Grand Opening celebration of the Middle East's very first Marina Life Theme Park marked a milestone in the region's entertainment landscape. With an extraordinary allure, HQWS skillfully curated exclusive both VVIP and invitee-only events, encompassing dual opening shows featuring exceptional artists. Additionally, the complete array of entertainment unfolded seamlessly in the pre-function area, amplifying the grandeur of the celebration.
What did we do?
The event showcased a concert by acclaimed A List artist Hussain Al Jassmi, who composed a bespoke song for the occasion, followed by Red, the live orchestra Arabian Philharmonic infused with the local emirati musicians, harmonized beautifully. All set against the backdrop of choreographed aerial bespoke creatures synchronized with tailored contents, crafting a spectacular audio-visual experience. Working closely with the Abu Dhabi Media Office, we engaged both local and international coverage through enthusiastic word-of-mouth endorsements and across diverse media outlets, further elevating the event's resonance.
What were the main objectives?
What were the main objectives?
With a dedicated span of six months in the heart of Yas Island in Abu Dhabi, HQWS meticulously executed every facet of the event: design and build, show production, creative concept, guest journey and operational master-planning. Overcoming challenges such as tight turn-around times, technical issues, and power constraints, HQWS succeeded in delivering a flawless event able to spotlight the new vision of SeaWorld.
What was the experience?
Stagecrafting an Immersive Experience
At the heart of SeaWorld, the event unfolded in a custom-built stage that harmonized seamlessly with the breathtaking wonders of the One Ocean environment. Through strategic coordination with venue management, HQWS optimized the use of space, clearing the way for the main stage setup. This approach allowed for a systematic progression, ensuring that each area reached its full potential.