PROJECT DURATION
14 months
DEFINED IMPACT
Large scale production and service
Audience profile
General Public, Schools and Universities, VIPs, Government Officials, Industry (architectural)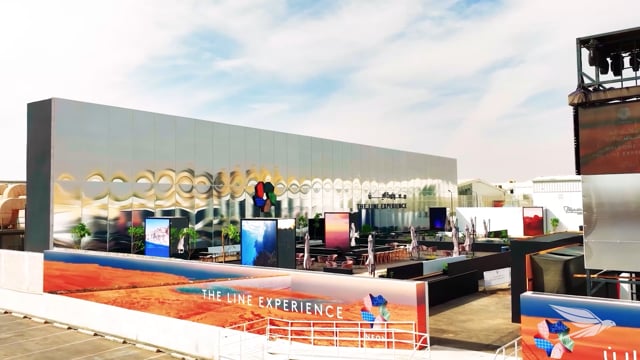 Insights
Exploring NEOM's Vision
An experience centre spread over 12000 sq mt featuring a curated journey into NEOM, showcasing its flagship project The Line. A 10 months running open event, with an average of 30000 visitors a month.
What did we do?
While technology played a pivotal role, it did not take centre stage: it served as a supporting actor to elevate the powerful narrative that unfolded throughout the space. The Line Experience is an immersive symphony where technology and creativity dance together, celebrating a future vision for humanity – all delivered in old industrial warehouses!
What were the main objectives?
What were the main objectives?
The Line Experience Center formed part of the Kingdoms strategic goals to grow awareness, create change, and - specifically for this project - educate visitors about The Line. We ensured that message was portrayed in a impactful manner, delivering a comprehensive solution that encompassed every aspect, from design to execution and operations managment.
The Experience
An Immersive Journey Through The Line
Inspired from the concept of a linear museum, we guide visitors from one space to the next: each transition immerses the senses deeper into The Line's purpose and a myriad of technological marvels transforms the venue into a wonderland for visitors. The black-box approach allowes visitors to embrace the experience unrestricted by external distractions: designed to create a cocoon of focus, it nurtures a personal connection, leaving visitors with a genuine encounter with The Line's vision.