Type of management
Protocol Management
Execution delivery
Four global events, one venue
DEFINED IMPACT
Sovereign strategy, turning around delivery execution within 71 hours
Audience profile
Multi-layered global presence, 1.1 billion globally televised audience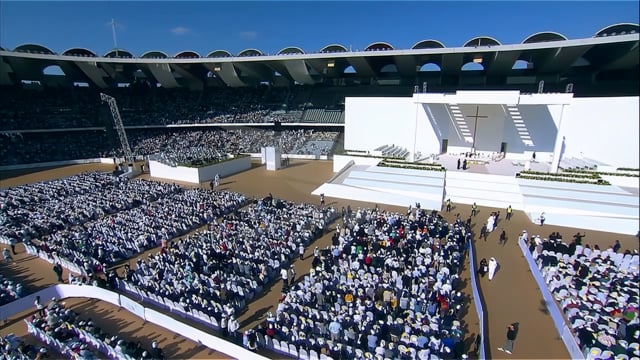 Insights
Defining a moment in history
What does it take to mark a moment in history? Would you consider it a collection of many pieces coming together to form a legacy. This was the mission we had when entrusted by the UAE Ministry of Presidential Affairs, to direct and lead the delivery and execution of the state visit of Pope Francis.
WHAT DID WE DO?
We staged four global events, in one venue - the Zayed Sports City Stadium, in just 14 days. With a turn around for the Papal Mass in 71 hours, holding an attendance of 180,000 people, whilst being broadcast to millions.
What were the Challenges
24hr rain, assimilating two cultures that can be unified into one environment space, in addition to three international broadcast football matches for the AFC Asian Cup taking place in the already tight two week lead up to the Pope's visit with the Final for the tournament being held only seventy-one hours before the Papal Mass.
What was our Solution?
A Unified Vision
Aside from the considerations of an incredible stage and individual elements of event production including a marble altar, a 120 strong choir and a replica 1920's custom church organ imported from the United Kingdom, HQWS was able to produce a strategic sovereign alignment. When crafting the legacy that was forming, we placed the audience at the core of our vision and witnessed the impact that unfolded with a global broadcast audience of 1.1 billion.
No previous post available.