Type of management
Cultural Design, Budget Control, International Protocol Management, Complex Build & Timeline Management
Execution delivery
Custom-designed Tatlin's Tower-inspired Structure, Babushka Doll Art Installations, Live Entertainment Programs, Exhibition Gallery
DEFINED IMPACT
Strengthened diplomatic and cultural ties between Russia and the UAE showcased through engaging installations, art, and performances
Audience profile
Dignitaries, Local & International Guests, Art and Culture Enthusiasts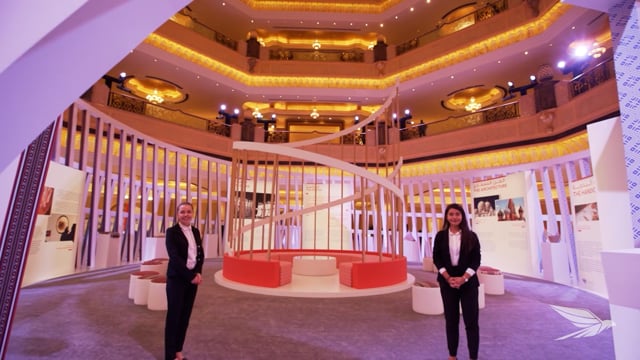 Insights
Bridging Cultures
The UAE-Russia Week was a testament to the power of cultural diplomacy, which is an often overlooked, but incredibly powerful tool for fostering meaningful relationships between nations. By leveraging shared cultural interests, governments can create a common language that can transcend political and ideological differences, deepen mutual understanding, and create bridges for diplomatic engagement.
What did we do?
Designed a central structure inspired by Tatlin's Tower, displayed artistically rendered Babushka dolls, celebrated the rich heritages of both nations, and provided a blend of traditional and contemporary performances.
What were the challenges?
What were the challenges?
Integrating elements of both cultures, maintaining international protocols, and executing the event within timeline and budget constraints.
The Outcome
Artistic Diplomacy
By seamlessly merging Russian and Emirati traditions, the event not only celebrated shared values but also emphasized the importance of cultural exchange in diplomatic relations, leaving an indelible mark on attendees.