Type of management
Production Management and Project Lead Consultant
Execution delivery
Creative Concept, Design & Build, Show Production, Operational Master-planner
Audience profile
General Public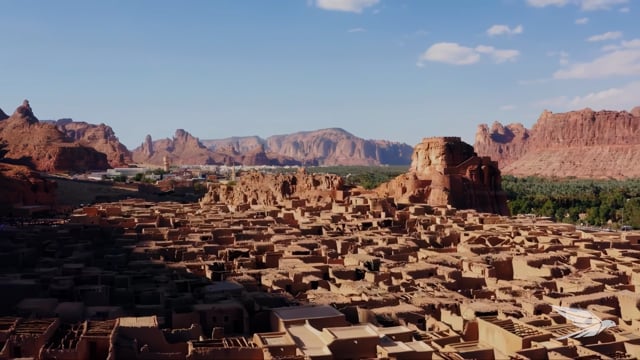 Insights
World Recognition for an Ancient Kingdom
AlUla's recognition as a "Best Tourism Village" by UNWTO marked a milestone celebration within the Rural Development Program. HQWS took center stage, spanning two dynamic days of cultural immersion: the historic Old Town was transformed into a living museum where dignitaries, guests, and representatives from 32 villages worldwide discovered the rich and historic cultural heritage of this Nabataean kingdom.
What did we do?
Through meticulous beautification, interactive experiences, parades, and re-enactments, we transformed the Old Town into an enchanting journey through time. Our main deliverables encompassed traditional wedding ceremonies, life re-enactments, handicraft and live archaeological demonstrations, a classic car show, culinary experiences and a cast of 500 actors and camels that filled the town engaging with visitors and making them integral to the unfolding story. All this set against a stunning live fusion performance by the Royal Philharmonic Orchestra and traditional Al Ula musicians.
What were the main objectives:
What were the main objectives:
Tasked with showcasing Al Ula on the world stage, we embarked on a comprehensive scope that brought history to life. Our goal was to create a seamless blend of education and entertainment, setting a new benchmark for cultural tourism experiences, outshining conventional immersive experiences found in tourism villages.
What was the experience?
The Al Ula Story Retold
The event achieved the ambitious goal of resurrecting AlUla's past glory. The fusion of historical reenactments, interactive engagements, and visual spectacles generated shareable moments that resonated globally. HQWS's involvement raised the bar for immersive entertainment, weaving heritage and spectacle into a seamless narrative, an experience that transcended mere tourism to become a cherished memory and pave the way for Al Ula's next step on the world cultural stage.