Type of management
Production Management and Project Lead Consultant
Execution delivery
Design & Build, Show Production, Creative Concept, Guest Journey, Operational Master-planner
Audience profile
Families, Expats, Residents, International Audience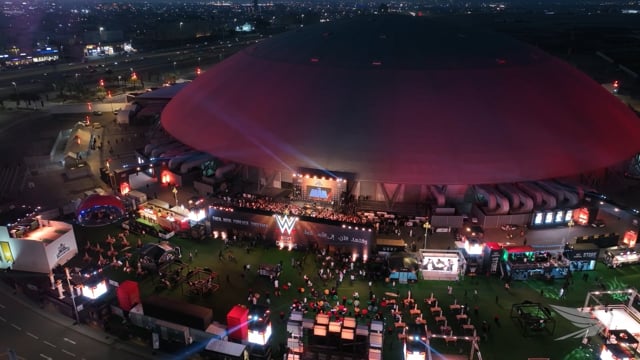 Insights
WWE Unleashed
HQWS fearlessly embraced the ambitious challenge of crafting an unmatched WWE event to rival WrestleMania in USA. The success was evident, eclipsing past KSA events in sales, with 98% visitor satisfaction across all indicators. We reshaped the perceptions of Middle East in the WWE universe, prioritizing stakeholders experience and treating die-hard fans to an unforgettable show.
What did we do?
We immersed ourselves in the mindset of WWE fanatics, and delivered the opportunity to feel like a superstar, engaging with all things WWE. We gave birth to Champions City, an extraordinary fan village that offered an immersive journey, featuring thrilling attractions like a zip-line, climbing walls, or the opportunity for guests to create their own WWE entrance into a real ring.
What were the main objectives?
What were the main objectives?
Our primary objective was to craft everlasting moments, aligning with Saudi Arabia and GEA's vision to establish themselves as leaders and pioneers in the sports entertainment industry. HQWS's approach encompassed immersing guests in the environment while engaging them at every touchpoint of their journey, creating unforgettable memories and leaving a lasting impact.
What was the experience?
Mastering the Moment
HQWS strategically partnered with a media agency to spearhead a comprehensive campaign spanning digital and traditional media, along with social media and global networks. We meticulously crafted an irresistibly Instagram-worthy environment: all activations boasted captivating visuals at every juncture, leading to viral moments that naturally promoted the event.